Keeping It Between Us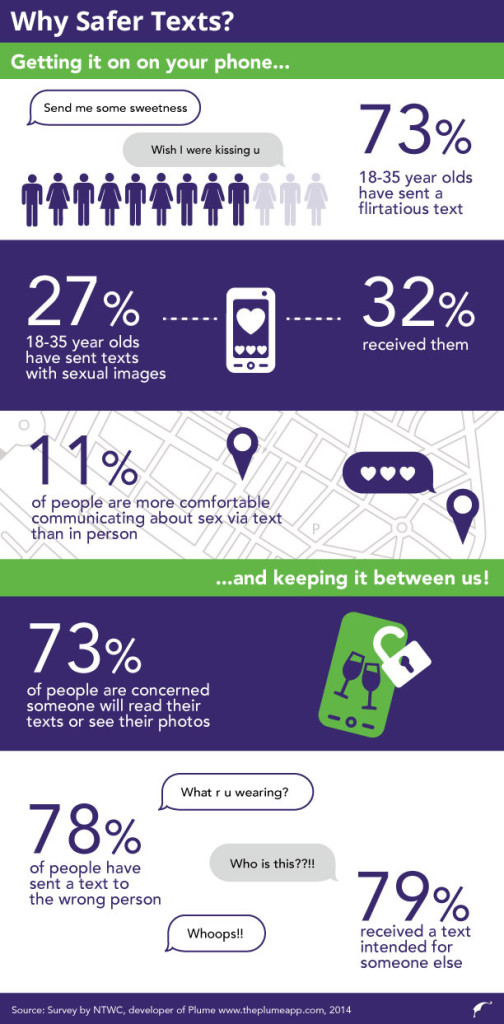 We are more connected to our mobile phones than any other device.  For many of us, it is the first thing we look at in the morning (in part because they double as alarm clocks) and the last thing we check before going to bed at night.  During the day our phones are within arms reach – in a pocket or purse, next to our computers on our desks, or given a prime space in the front of the car.
As much as the use of mobile phones for communication has expanded our ability to stay connected – our communication is also framed by our phones:  which features and apps we have (or know how to use), which platform we are on, and which emojis came with our operating system.
What are we doing on our phones?  What concerns do we have?  What do we want when we send texts? 
92% of people use texts to keep in touch with friends and family, and 84% use text to schedule (picking someone up, meeting in a certain place, etc.).  63% of people send texts related to their work, and 56% of people flirt via text.
18-35 year olds are flirting the most on their phones – 73% send flirtatious texts.  Across all age brackets (18 and over) 60% of men and 53% of women send flirty texts.
With all of this flirting going on, 73% of people are concerned that someone could read their texts or see their photos and 78% of people have sent a text to the wrong person while 79% of people have received a text intended for someone else.
Interestingly, 24% of people claim to receive sexual images via text but only 18% say that they send them.
11% of people are more comfortable saying something flirtatious by text than in person and 11% more people would prefer to send a sexy drawing than a photo of themselves.
In terms of getting their flirty messages across, people have become quite creative with eggplants, peaches, and squirts, but that does not appear to satisfy them.  57% of people surveyed wanted more flirtatious emojis and 37% wanted more sexy emojis.
What is in the sexy images appears to matter:  32% of people would want a sexy emoji to have the same body type that they do and 37% would want it to be the same race.
A survey of 300 people was implemented by IntelliSurvey for NTWC, LLC.  Survey participants were selected based on their responses to gender (50% women 50% men); owning an iPhone or Android device (50% – 50%); and sending text messages (100%).  Of this US-based sample, 59% of people surveyed identified as Caucasian/White; 17% Hispanic/Latino; 15% African American/Black; 12% Asian.